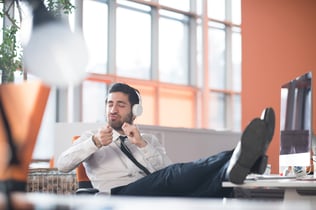 In an environment where retailers and small businesses are facing pandemic-driven labor shortages, radio is standing out as a winning recruitment marketing solution. Competition is fierce for talent, and it's getting tougher to stand out from the crowd. With the holidays rapidly approaching, many businesses are finding themselves needing to up their hiring game. This week's roundup of recruitment news from around the web shows that adding radio to your recruitment marketing plans might just be the way to go.
Radio Powers Seven Of The Top 10 Recruitment Advertisers - Inside Radio
A recent analysis of the top job recruitment advertisers puts radio in the driver's seat, with seven of the top 10 placing anywhere from two-thirds to all of their commercials on radio. The top three are powered by radio buying, with employment services Indeed and ZipRecruiter putting 63% and 66% of their ads on radio, respectively, and Amazon.com's recruitment arm all in, with 100% of instances at radio. <<<Read More>>>
Passive Job Seekers Outnumber Actives, And Radio Reaches 80% of Both - Westwood One: Everyone's Listening
According to the latest data from the Federal Reserve, job opening rates now exceed pre-pandemic levels as American unemployment continues to drop. In light of the current economic state, now is the time for companies to start recruiting new employees.
AM/FM radio has been called "the soundtrack of American worker" as the majority of listening is from people who work. Over-the-air AM/FM radio, AM/FM radio streaming, and podcasts are strong platforms to reach both active and passive job seekers.
AM/FM radio reaches over eight out of ten passive and active job seekers. Among passive job seekers, 39% listen to AM/FM radio streaming. Half of active job seekers listen to AM/FM radio streaming. One-third of passive job seekers listen to podcasts and 38% of active job seekers are podcast listeners. <<<Read More>>>
Employees Are Customers, Too: How to Sell Your Brand and Win Top Talent – Bonneville Bay Area
While focusing on the needs of external customers makes sound business sense, creating a rich employee experience can be just as important to a company's long-term success. After all, your business never would have grown without your employees' commitment and hard work. The challenge today, however, is that there is a talent shortage with no end in sight.
The current global talent shortage already amounts to 40 million skilled workers worldwide. By 2030, the global talent shortage is predicted to reach 85.2 million workers. Companies worldwide risk losing $8.4 trillion in revenue because of the lack of skilled talent. Eighty-seven percent of organizations are already experiencing a talent shortage or are expecting to face it within a few years. <<<Read More>>>
Don't miss a single blog! Subscribe to the Bonneville Bay Area blog here, and get the latest updates from around the web sent straight to your inbox!
We cover the latest marketing tips, best practices, and insights that you can apply to your Bay Area business. Check out some of our recent posts:
3 Critical Components of Recruitment Marketing in the Bay Area
Weekly Roundup: What Is Recruitment Marketing and How to Leverage Digital to Win Top Talent
Weekly Roundup: Diversity, Equity & Inclusion in Marketing – Why It's Important and How to Expand Your Reach with the Right Message