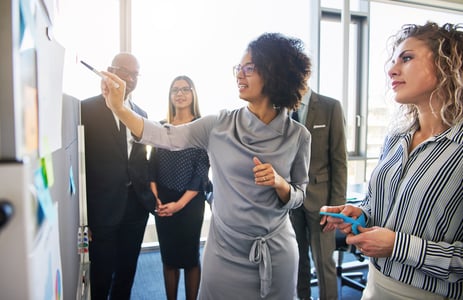 Multicultural consumers make up almost 40% of the U.S. population, but multicultural media spending accounts for only 5.2% of total ad and marketing spend. That's a major disconnect!
This week's roundup takes a deep dive into Diversity, Equity, and Inclusion (DEI) in marketing. We'll uncover why DEI is a key differentiator in your marketing strategy, how to hire for diversity and inclusion (and innovation!) in a rapidly changing workforce, and how to gain diversity reach using an integrated marketing approach.
Diversity, Equity and Inclusion in Marketing: Changing the Way You Market - Influencer Marketing Hub
Diversity, equity, and inclusion are becoming more important to consumers. A research report conducted by Adobe in 2019 revealed that for 61% of Americans, diversity in marketing is crucial. Not only that, 38% of consumers are more inclined to trust brands that effectively embrace diversity in their advertising.
Yet, advertising still does not accurately portray the way communities really look. More than 90% of marketers feel that more can be done regarding how diversity is portrayed in their marketing content. <<<Read More>>>
How to Hire for Diversity, Equity and Inclusion – American Marketing Association
A workforce that better represents society is key to sustained innovation and understanding a vast array of consumers.
Diverse companies produce stronger business results than those with a more homogenous makeup. Companies with above-average diversity scores bring in 45% of their revenue through innovation, compared with 26% at companies with below-average marks.
The level of diversity among top-level stakeholders also predicts industry success. Companies with the most diverse executive teams were 59% more likely to financially perform above the national industry median, versus 44% of those with the least diversity. The trend holds true for the board of directors: 59% for diverse boards but only 41% for those with the least diversity. <<<Read More>>>
Why Diversity, Inclusion, and Equity is a Key Differentiator in Your Marketing Strategy – Campaign Monitor
Marketers today know way more about customer identities, lifestyles, behaviors, habits, and preferences than ever before. Hyper-personalization provides an opportunity for marketers to deliver real-time, anywhere-anytime content and customer experience at an individual level.
Yet 54% of consumers do not feel culturally represented in online advertising. And 71% of consumers expect brands to promote diversity and inclusion in their online advertising. <<<Read More>>>
Diversity Reach Using an Integrated Marketing Approach – Bonneville Bay Area
Diversity reach is a highly effective tactic when penetrating territories and market sectors that have distinct idiosyncrasies. While this technique won't require you to change your core message, it will enable you to tweak your messaging for optimal effect across the consumer base.
Ultimately, you'll be able to engage with a range of new customers, generate leads and conversions, and drive growth for your brand. <<<Download the eBook>>>
Subscribe to the Bonneville Bay Area blog here, and get the latest updates from around the web sent straight to your inbox!
We cover the latest marketing tips, best practices, and insights that you can apply to your Bay Area business. Check out some of our recent posts:
The Importance of Diversity Reach in the Bay Area
5 Questions to Ask Your Media Partner for Multicultural Advertising
How Do You Reach the Multicultural Community Through Advertising?