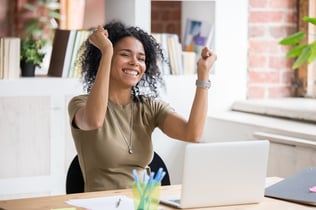 While focusing on the needs of external customers makes sound business sense, creating a rich employee experience can be just as important to a company's long-term success. After all, your business never would have grown without your employees' commitment and hard work. The challenge today, however, is that there is a talent shortage with no end in sight.
The current global talent shortage already amounts to 40 million skilled workers worldwide. By 2030, the global talent shortage is predicted to reach 85.2 million workers. Companies worldwide risk losing $8.4 trillion in revenue because of the lack of skilled talent. Eighty-seven percent of organizations are already experiencing a talent shortage or are expecting to face it within a few years.
It's more important than ever that you pay special attention to recruitment marketing. Here's how to build your employer brand and reach the right candidates.
Know Your Target Audience
Much like you need to know your consumer audience, you also need to thoroughly understand your potential employees. This means going through similar measures like making buyer personas and collecting target audience data to ensure your brand marketing will reach and resonate with top talent.
The more you know about your ideal candidate, the better positioned your brand will be in attracting them to your company.
Run a Targeted Radio/Integrated Campaign to Intrigue Prospects
When selling your brand to top talent, it's important to make sure that you're taking advantage of integrated radio campaigns. Considering an incredible 92% of the U.S. population (18 and older) listens to radio every week, it is one of the best media outlets to use to reach potential hires and introduce your new job openings.
Don't forget to diversify your talent reach by expanding your voice, tone, and messaging to resonate with potential hires from highly diverse backgrounds.
Leverage Social Media
Most people already know that social media is dominating marketing, but many marketers forget just how useful it can be for reaching and attracting employees. After all, employees are customers too, and you'll find a significant number of them on major platforms. This is especially true for platforms like LinkedIn that serve the sole purpose of making business connections, being a platform for discussions, and recruiting and hiring via your network.
You should also consider including testimonials from current, engaged employees via social as well. Using your current employees to attract new employees is a great way to show your workplace culture.
Incorporate OTT for Hyper-Targeting
Another important tip to consider is taking advantage of over-the-top (OTT) and its hyper-targeting capabilities. Not only is it great for reaching a large audience with a more desirable budget, but you can make sure your budget isn't being wasted by targeting only the most relevant audience with your message.
Considering the number of cord-cutters in the U.S. is expected to reach about 55.1 million by 2022, it's an opportunity you don't want to miss out on.
Highlight Your Company Culture
Company culture is becoming an extremely important component of job seeking, so you'll want to highlight in your messaging to top talent. A strong company culture is invaluable to an organization's success. Forty-six percent of candidates believe culture is very important in the application process and at least 15% of candidates admit that they've turned down a job because of its company culture.
Consider showing your workplace in action, so potential hires can get a feel for your brand ahead of time and know whether you will be the right fit for them. This could go a long way in eliminating candidates who don't suit your business and company culture.
Incentivize Recruitment
No matter what industry you're in, the competition is fierce right now. Not only is there a talent shortage, but talent is expecting a lot more than a good payday from potential employers. They want more incentives in exchange for their hire. In fact, the amount of jobs offering incentives on Indeed alone has more than doubled in the last year, reaching about 4.1% compared to its 1.8% the year before.
To do this, you can feature a signing bonus, referral bonus, or some type of incentive in creative to drive participation and interest.
Consider Passive Candidates
Make sure that your creative speaks not only to those who are actively seeking employment but those who might be content in their jobs — they might make the best employees. One of the biggest mistakes employers make when seeking top talent and attracting them to their brand is not also creating messaging for passive candidates.
This could be significant for your business since 70% of the global workforce are passive candidates.
Build Your Employer Brand with Bonneville Bay Area
Building an employer brand to attract top employees is crucial to all businesses today, and as we ride out the talent shortage is expected to continue. It takes a lot more than great pay or salary to attract the right talent to your brand. You need to appeal to what is most important to them.
Work with a trusted media partner to establish who your ideal candidates are and how to attract them. In the meantime, follow our blog for more marketing tips.