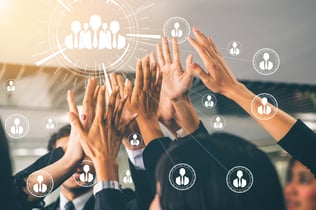 Great talent will make or break your business. It sets the truly remarkable and successful companies apart from the rest. Talent means different things to different companies. It comes down to the ideal employee aptitude and skills for the unique business needs, goals, and organizational culture. Building a high-performing workforce requires having a successful recruitment marketing strategy.
Good people are hard to find, and securing the best ones takes a sound plan. Part of that means getting your company in front of the right candidates. Just as digital marketing allows you to target your ideal customers, recruitment marketing gives you the ability to present your value proposition to your target employees. Let's look at some critical components of recruitment marketing to build your winning strategy.
1. Employer Branding
Branding differentiates you from your competitors, and it works much the same in recruiting top talent. Employer branding tells prospective candidates that your company is a great place to work by highlighting your reputation, benefits, values, and initiatives. According to LinkedIn, a strong employer brand can attract 50% more qualified applicants and cut recruiting time in half.
Though there are many channels you can use to reach your target audience, radio is one of the most effective. Radio hosts have a ready-made, loyal listening audience that you can leverage to spread awareness of your brand. Because listeners think of their favorite radio hosts as trusted friends, they are more attentive and receptive to their recommendations. Radio provides many other benefits to your branding campaign, including:
Ability to reach a targeted audience -

Employers can target their audiences based on geographic location, daypart, genre, or program.

Low cost -

Radio is highly cost-effective, particularly when compared to television ads.

Vast coverage -

An astounding

92% of the U.S. population

listens to radio weekly.

Accessibility -

Radio is highly flexible, allowing audiences to listen anywhere while studying, working, exercising, commuting, or cleaning the house.
2. Target the Right Audience
Getting the right applicants for your open positions requires targeting the right audience. Digital marketing allows you to position your message to specific groups that meet various criteria. By using data to segment your audience, you reach the right people at the right time. You can also decrease the chances of being inundated with unqualified applicants.
Several audience targeting strategies can increase your chances of reaching the right group of potential candidates, including:
Location targeting -

If you are interested in only local candidates, you can use location targeting to restrict your ads to specific areas. This is helpful for businesses uninterested in providing relocation assistance.

Demographic targeting –

This allows you to target the essential requirements for the job, such as languages, training, education, or certifications.

Affinity audiences -

An affinity audience is defined by their lifestyle or interests. If you have a business in the health and fitness industry, you may want to limit your candidates to people passionate about sports, fitness, or similar interests.

Similar audiences -

If you've successfully recruited previously using a specific targeted audience, technology like Google algorithms can help find similar audiences to those you've used before.
There are targeting limitations in recruitment advertising, and you want to ensure that you're following the proper guidelines to avoid violating anti-discrimination labor laws. You may not exclude groups based on characteristics such as race, ethnicity, color, national origin, language, religion, age, sex, sexual orientation, gender identity, family status, disability, medical, or genetic condition.
For example, if you are placing an employment ad, you cannot use targeting to exclude users based on race/ethnicity or language. You can tell Facebook, for instance, to show ads to Spanish speakers, but you cannot tell Facebook to show ads to everyone but exclude Spanish speakers.
3. Social Recruiting
Another critical component of recruitment marketing is social recruiting. Social recruiting lets you connect with the type of candidates you seek through social media platforms like Facebook, LinkedIn, Instagram, and Twitter. Any content you post should authentically reflect your culture to attract candidates in line with your values.
Social hiring is an excellent way to identify, connect with, and recruit the types of candidates you have targeted for your open positions. Thirty-five percent of job applicants find out about open positions through social media, and 41% of younger job seekers use social media to look for jobs. Benefits of social recruiting include:
Connect with a large pool of qualified candidates.

Highlight your culture through employee-generated content.

Reinforce your mission and values.

Inform candidates of your benefits.

Save time and money on recruiting.
Leveraging your employees' networks helps you reach more candidates in less time with less money. Social media allows you to show recruits what you are about and what you have to offer. Potential applicants are more likely to trust employee-generated content like videos, photos, testimonials, and social media posts than almost any other marketing or recruiting message. Combining the tactics above so they complement one another is the key to a successful recruitment marketing campaign.
Target the Right Candidates with an Experienced Marketing Partner
By using the critical components of recruitment marketing, you can very effectively recruit qualified candidates. However, it requires expertise with digital marketing tools and techniques. Many businesses don't have the time or in-house knowledge to execute it successfully. When you are ready to recruit top talent to your company, consider working with a respected Bay Area media partner.