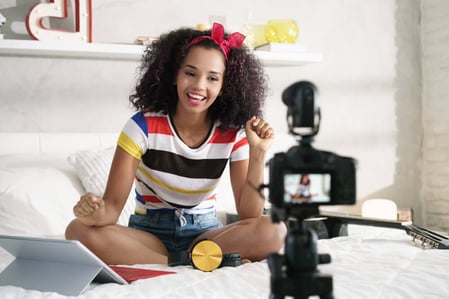 Are brands' original TikTok sounds the newest evolution of the jingle? While musical branding is nothing new, marketers are now turning to the social media platform TikTok with unique songs to add to the leading app's sounds. Music is a big part of TikTok culture, and some big brands are leaning into the fad.
"You have songs that take over the entire platform in just a matter of days," said Annie Leal, head of content at digital media company My Code.
Major companies like Mcdonald's, Pizza Hut, and Mondelēz brand Trident are teaming up with influencers to create original music to engage the younger audience on TikTok. These companies know that largely ad-adverse Gen Z will engage with brands on social media when they embrace viral trends. TikTok influencer marketing doesn't feel like marketing. Instead, brand songs are becoming recognizable and iconic. When brands team up with influencers, we can all agree -- magic happens.
Building Authentic Influencer Partnerships That Last – ADWEEK
Recent studies show that 92% of consumers trust influencers over advertisers, and those consumers are more likely to make a purchase based on social media references. With online communities redefining how consumers form opinions, make purchases and engage with brands, how are marketers considering this unique approach to choosing the right partners?
Bette Ann Fialkov, head of entertainment and culture at Hims & Hers, and entrepreneur and influencer Julz Goddard (@YesJulz) joined Brandweek to tackle this question and shed light on the broader trend. <<READ MORE>>
Influencer Marketing: Radio Did It First
Influencer marketing is a highly effective strategy for increasing brand awareness and driving sales. In fact, 93% of marketers have used influencers for their marketing campaigns. In 2016, the influencer market totaled $1.7 billion. This year, it is projected to reach $16.4 billion.   
Why the popularity? It's because influencer marketing works. One study shows that influencer marketing produces 11 times more ROI than banner ads, with over 1.2 million additional impressions. Though the term may be relatively new, the concept is not. 
Who Did It First?  
Radio influencers, called DJs, were the first influencers. Long before television and decades before the internet, families gathered around the radio for news and entertainment. The voice they heard was their connection to the greater world, garnering the respect and trust of their audiences. Their opinions on various topics and recommendations on products or services carried significant weight. 
<<READ MORE>>
Don't miss a single blog! Subscribe to the Bonneville Bay Area blog here, and get the latest updates from around the web sent straight to your inbox!    
We cover the latest marketing tips, best practices, and insights that you can apply to your Bay Area business.
Check out some of our recent posts: