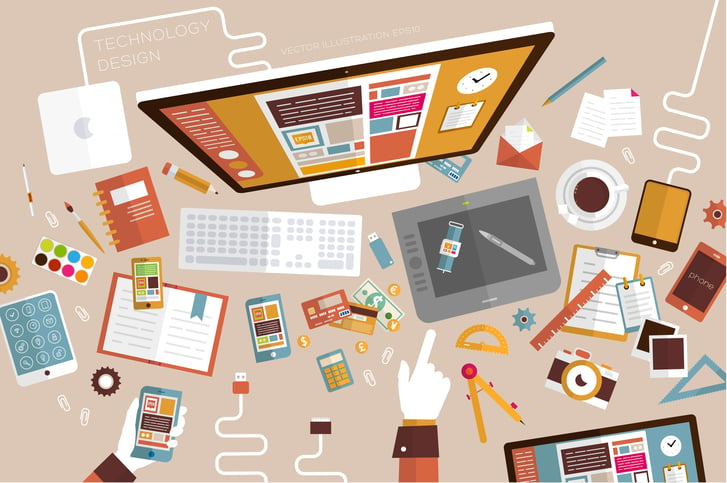 When it comes to marketing, there are a lot of different strategies that you can use. You can try one approach and see how it goes, or mix and match different strategies to create a well-rounded plan.
Running an integrated marketing campaign will be more successful than focusing all your efforts on one channel. This is because you can reach a wider audience and target different demographics with each type of advertising.
Combining Radio and Digital Advertising to Boost Your Brand
Studies have shown that integrated marketing campaigns are more successful overall. Campaigns that used multiple channels saw a lift in ROI of up to 20%. Here, we examine six distinct types of digital advertising that pair well with radio.
1. Display Advertising
Display advertising can complement radio ads by providing additional information about your product or service. And because display advertising is relatively inexpensive, you can reach a wider audience without breaking the bank. When used together, radio and digital marketing can be a powerful way to reach potential customers and grow your business.
2. Video Advertising
It's no secret that video and radio advertising can be a powerful combination. After all, they are both auditory mediums that can reach a wide audience. But what makes them particularly effective when used together?
Radio can reach 92% of Americans weekly, while a video can reach 80% of American adults online. This means that using both channels can help you reach the most potential customers.
Radio is great for creating awareness and building interest in a product or service, while the video provides more information and converts viewers into customers. This combination can be particularly effective in the pre-purchase stage of the customer journey.
3. OTT/CTV Advertising
OTT (over the top) and CTV (connected TV) advertising is a form of digital advertising that has seen explosive growth in recent years. OTT/CTV refers to delivering content and ads via the internet without needing a traditional cable or satellite TV subscription.
This means that OTT/CTV platforms like Roku, Amazon Fire TV, and Apple TV offer a unique opportunity for advertisers to reach a highly engaged audience. OTT/CTV advertising allows you to target specific demographics, interests, and even household income levels. In addition, the platforms offer interactive features that traditional linear TV cannot match.
For example, you can use them to advertise a personalized message to each viewer in your target audience. If you're looking to take your marketing strategy to the next level, OTT/CTV advertising is a great option to integrate with radio.
4. Social Media
Forty-three percent of people who use social media say they are more likely to buy a product after hearing about it on the radio. Social media platforms like Facebook, Twitter, and Instagram offer paid advertising opportunities that can be highly effective when used in conjunction with radio. Radio ads can drive listeners to your social media pages, where they can learn more about your product or service and connect with your brand.
5. Email Marketing
Email marketing can reach a wider audience, promote special offers, and drive traffic to your website or blog. It's a cost-effective way to reach potential customers and grow your business. When used together, email marketing can help you complement your radio advertising campaign and maximize your results.
6. Search Engine Marketing
Radio and search engine marketing are two of the most effective channels for reach and frequency. Search is a top driver of incremental website traffic, while radio delivers high reach and frequency at a relatively low cost. When combined, these two channels can provide an effective way to reach your target audience.
Radio + Digital = More Sales
Radio is still a highly effective advertising medium, and you can increase your chances of success by pairing it with digital tactics to maximize your results. When you work with a media partner, they can help you determine the right mix for your business goals.