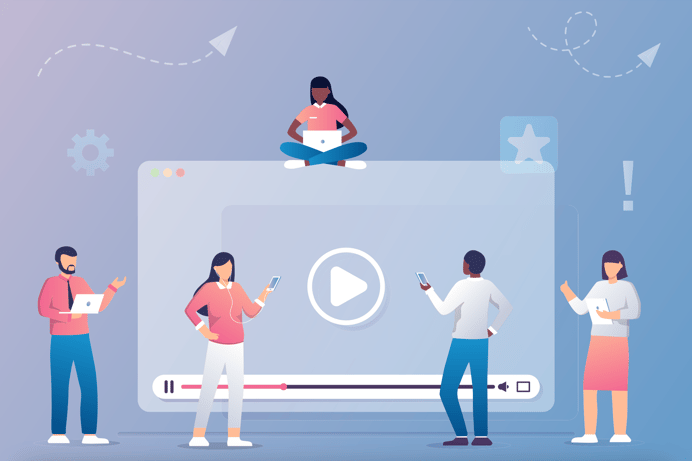 Are Netflix ads in our future? According to recent reports, it seems likely. Rising subscription costs, a decline in subscribers, and password sharing are resulting in lost revenue, so the streaming giant is reported to be accelerating the move to an ad-supported (aka cheaper) option.
They're not the only ones with money woes. Small businesses are being hit hard by rising inflation, but consumers are empathizing and lending their support. The key to capturing this audience is personalization within your digital marketing efforts. But how do you streamline your strategy? Our latest weekly roundup has all the details.
Netflix May Add Ads by the End of 2022 in Accelerated Timeline –
AdWeek
Netflix rocked the streaming landscape last month when the company said it's planning to introduce an ad-supported tier after years of staunchly advocating for an SVOD-only model.
While CEO Reed Hastings revealed nothing about a potential timeline for an ad-supported tier, industry experts agreed that it would be several years before Netflix had the framework to introduce an AVOD model.
Now, a report from the New York Times has revealed that the company could launch the AVOD model by the end of 2022 in an accelerated timeline. >>>READ MORE
Shoppers Want To Support Small Businesses Despite Inflation – Publishers Daily/Media Post
Consumers are eager to support small businesses, even in the face of inflation — but they expect a 1-to-1 approach. 43% of consumers said personalization would make them buy from SMBs. This could include email communications, text messaging or Slack notifications.
A seemingly small number — 36% — prefer to interact online. However, this is a jump from almost zero in earlier years, and is due to the rise of tools that can provide personalized experiences online. >>>READ MORE
5 Ways to Streamline Your Digital Marketing Efforts – Bonneville Bay Area
With so many ways to deploy your digital marketing tactics, your efforts can quickly become disorganized and misaligned. However, there are ways to take a streamlined approach to optimize your campaigns. Many businesses make the mistake of choosing the wrong tactics or utilizing too few of them, but the fact is that you don't need to know everything in order to succeed. The key is knowing which tactics work best for your business and how to deploy them effectively. >>>READ MORE
Don't miss a single blog! Subscribe to the Bonneville Bay Area blog, and get the latest updates from around the web sent straight to your inbox!
We cover the latest marketing tips, best practices, and insights that you can apply to your Bay Area business. Check out some of our recent posts:
Weekly Roundup: OTT and Video Continue to Make Waves
7 Ways to Boost Your Digital Marketing Campaign
10 Questions to Ask Your Digital Provider