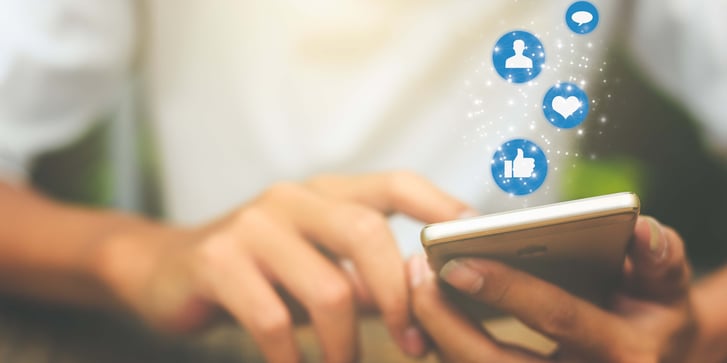 Tis' the season to get social! Social media is an excellent way to engage new and existing customers throughout the buyer's journey as we head into the holiday shopping season. Consumers aren't abandoning their pandemic shopping habits, which means reaching them at multiple touchpoints is more crucial than in the past. Plus, we discuss the Elephant in the Room, Facebook aka Meta.
Dig into this week's roundup of social media marketing news to discover how you can use this tactic to your advantage this holiday season.
A Lot Going on with Facebook: Q3 earnings, Apple's effect, and the Facebook Papers - eMarketer
There's a lot going on with Facebook, aka Meta, or whatever they're calling themselves these days. (I mean, who do they think they are...The Artist Formerly Known as Prince?) On eMarketer's latest podcast episode of Behind the Numbers, they discuss the main takeaways from Facebook's Q3 earnings, what to make of the new company name "Meta," and how the company will finish the year. <<<Listen Here>>>
NRF Predicts Highest Holiday Retail Sales on Record – National Retail Federation
Holiday spending has the potential to shatter previous records, as the National Retail Federation forecasts that holiday sales during November and December will grow between 8.5 percent and 10.5 percent over 2020 to between $843.4 billion and $859 billion.
Last year saw extraordinary growth in digital channels as consumers turned to online shopping to meet their holiday needs during the pandemic. While eCommerce will remain important, households are also expected to shift back to in-store shopping and a more traditional holiday shopping experience. So, what does this mean for your social media marketing? <<<Read More>>>
How to Integrate Social Media for a Perfect Advertising Campaign – Bonneville Bay Area
Endless ways exist to create a perfect advertising campaign, and a perfect ad campaign for your business will not look like an ad campaign for any other. What perfect campaigns all have in common is that they supply enough touchpoints to create a full customer journey.
Customers need numerous touchpoints before they're ready to make a purchase from your brand. They need to feel confident you understand their pain points and that your product will address them effectively. Integrating social media into your ad campaign ensures that it will cover the full buyer's journey. <<<Read More>>>
Don't miss a single blog! Subscribe to the Bonneville Bay Area blog here, and get the latest updates from around the web sent straight to your inbox!
We cover the latest marketing tips, best practices, and insights that you can apply to your Bay Area business. Check out some of our recent posts:
How to Integrate Social Media for a Perfect Advertising Campaign
The Top 3 Social Media Platforms You Need to be on and 3 Best Practices for Each
Weekly Roundup: It's Never Too Early to Prepare for the Holidays