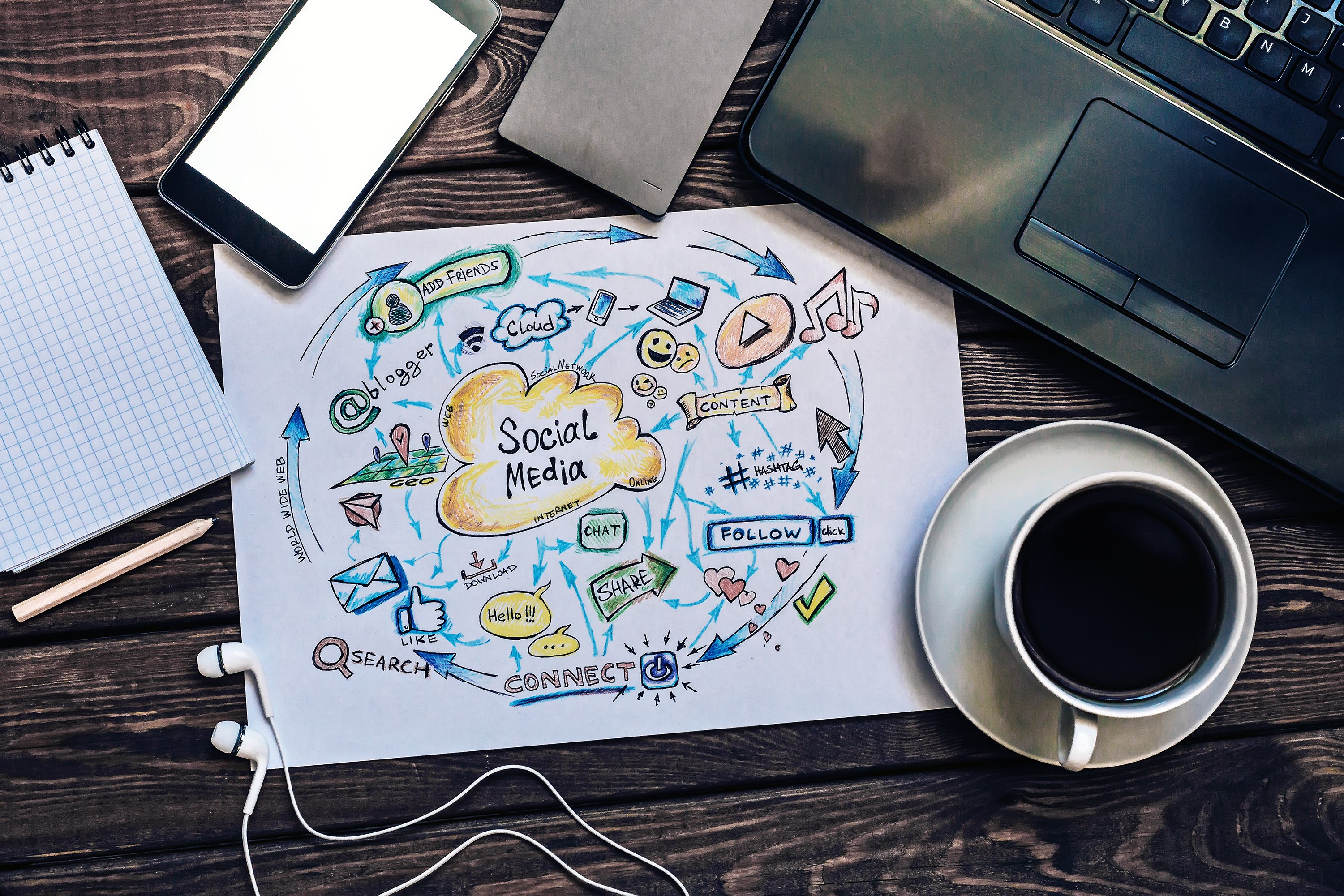 Social media has been around for nearly two decades, starting in the form of blogs and forums and expanding into the use of social media channels. The first popular blogs eventually gave way to what we have now: social media channels that often cater to the masses.
It's essential you have a thought out plan of action for marketing your business on these platforms. The better your social media presence is, the more brand awareness and credibility you will have with your target audience. Your social media presence is about connecting with potential customers in ways that make sense to them.
Social media is helping businesses connect with their audience, and these best practices can be lucrative to your business. In this article, we are covering three of the most used social media platforms and best practices that are applicable to almost every business.
Instagram
Although it's now owned by Facebook, Instagram turned heads in the early 2010s with its own distinct style. Instagram offers users a personal way to showcase their own content while also engaging with their favorite accounts and brands. Instagram is one of the most popular social networks boasting over a billion users.
Even if your business has a more niche audience, the opportunity to reach the right people at the right time on Instagram is achievable when you follow best practices. From running ads to publishing curated content to your feed or stories, Instagram's features allow you to reach a number of users consistently and in a very engaging environment.
One feature of the platform that your business should be taking advantage of is its ability to connect easily with your Facebook business page. This allows you to seamlessly integrate your platforms together to continuously guide your users across channels.
Instagram also has a number of features that allow your brand to be more engaged with your audience. Interactive stories (which currently has over 500 million people who view Instagram Stories every day) encourage users to engage with your brand in a customized and intimate way. They can answer polls and participate in Q&A sessions, while also providing a personal way to connect with key audiences.
Messaging within Instagram is easy and direct, allowing you to personally contact your potential customers.. This allows your company to maintain contact and relationships with your followers, as well as optimize support by handling customer support issues that may come through on the platform. Instagram offers a number of analytics and insights to help you see how your organic posts and paid ads are performing. With the use of analytics on the Instagram dashboard, your business can analyze metrics in real-time and make necessary adjustments.
3 Best Practices for Instagram:
Post and engage regularly. Instagram is a social network that rewards brands based on their engagement with their users. Review your analytics on the platform to see what days and times your audience is most active. Then use this data to determine a posting schedule and the best times to be online engaging with your audience. It's important to make your followers feel heard by answering their questions, responding to and liking comments, and conducting audits to see what they are responding to most.
Utilize the interactive features. IGTV, interactive polls, shopping in-app, and swipe ups to your website are just a few of the interactive features. These features allow you to move your followers from viewing posts to watching videos and engaging without switching apps.
Be consistent. Ensure that your brand voice and look and feed align across all platforms and creative. You want to make sure that your photos are of good quality and consistent across platforms. From the pictures you post to your comments, hashtags, and captions, everything should have a consistent and cohesive brand feel. When you are consistent across platforms, you can increase your brand awareness and remain top-of-mind.
YouTube
YouTube is a platform that is rapidly growing. Over 500 hours of video are uploaded to YouTube every minute! YouTube provides viewers with a wide variety of mostly user-generated video content from long-form to short-form video, that spans across genres and attracts multiple generations. Establishing a YouTube presence can be extremely beneficial for your brand but only if you're willing and able to put out new content on a regular basis.
Since YouTube is tied in with Google, you should optimize your videos with SEO. Including keywords in your titles, video description, and tag. When you optimize your videos, you are giving them a better chance to pop up in Google and YouTube search.
Through video, you are able to position your brand as an expert on a topic or subject or offer your audience guidance, knowledge, or entertainment on the topics that they are most interested in.
YouTube serves as a video hub for your brand and can be used as a marketing destination for your target audience. By creating video content for your potential and current customers, you are giving them an opportunity to get to know your brand on a more personal and visual level. YouTube can be a critical marketing tool for any growing company looking to utilize video to expand their reach.
3 Best Practices for YouTube:
Add Strong CTAs. When creating YouTube videos, make sure that you're giving your viewers an action to take before, during or after the video. Whether that's asking them to like the video or subscribe to your channel, you should give them a call-to-action to follow. Other strong CTAs are to direct your viewer to your website or other social media channels.
Optimize for Growth. When you know your audience, you can create videos that appeal specifically to them. First, make sure your titles and thumbnails will draw the attention of your target audience.. Second, ensure you are implementing SEO keywords in the title, description, and in the tags. The better you optimize your content, the better chance you will have in showing up during your target audience's search.
Drive cross-traffic. Uploading a new YouTube video should be something that is promoted across your platforms. Tell your customers about it in your newsletter, post links to it on your social media platforms, or embed the video directly on your website. While cross-promoting your YouTube videos on your other platforms, the video itself can drive traffic back to your social channels and website when found organically if you provide the viewer with the right information in the call-to-action.
Facebook
Facebook has remained constant, even as other platforms have entered the social media space. 1.73 billion people log on each day on average. Facebook ads are still one of the leading advertising contenders in social media. With an increasing population of users, Facebook is a great way to reach your audience and target those who might be interested in your brand.
Facebook makes it easy to automate and regularly publish content to your business account or group. By encouraging users to "Like" and "Follow" your page, your target audience becomes more accessible. Facebook is known for its users sharing their opinions, reviews, and favorite pieces of content with their friends, which further expands your reach on the platform.
Lastly, Facebook advertising has continued to be an effective and proven marketing tactic for a variety of businesses. With their rich analytics, targeting capabilities, and variety of ad types, it's common for most brands to look to Facebook advertising as a foundational part of their digital marketing strategy.
3 Best Practices for Facebook:
Monitor feedback. Customers often take to Facebook to share their opinions and experiences regarding a product or service. When engaging with those who are talking about your brand online, you are able to build a reputation as a brand that cares for their customers.
Connect your other social channels. When you upload a video to YouTube or post an Instagram story or post, you can configure these platforms to automatically cross-publish to your Facebook page. This is a great way to repurpose content and expand your reach with the same material across multiple channels.
Interact with customers and other brands. By keeping your social media presence consistent, you have the ability to reach many more new consumers. When consumers see brands interacting with their customers or even other brands, it portrays a sense of authenticity and can have a positive impact on the brand's image.
The Bottom Line on Social Media Marketing Tactics
When it comes to social media marketing, what's most important is that you are consistent and start by managing a few platforms at a time. You want to make sure that your platforms are all consistent, publishing regularly, and following best practices. Once you have a couple of platforms operating in this manner, consider adding on another to further integrate your social media marketing efforts.
Social media is one of the best and easiest ways to reach your target consumers. With the majority of people being logged on, these platforms allow brands to meet their audience where they are. During the current pandemic, social media is proving to be even more effective for brands trying to remain top-of-mind and in touch with their customers. By utilizing the three social media platforms above and their corresponding best practices, you can help to keep your marketing momentum going as businesses begin to plan for reopening.