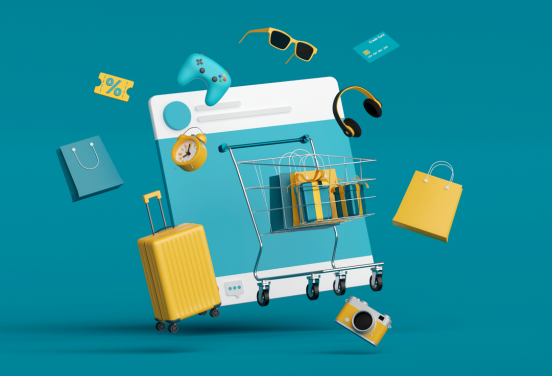 With the increasing popularity of social media and the ease of online shopping, social commerce is becoming an attractive option for businesses to reach their target audience and increase their sales. In this era of digital marketing, social commerce is definitely on the rise and is expected to continue to grow in the future. Read this week's roundup to learn more.
Social Commerce 2023: Social Media and E-commerce Convergence Trends Bring Growth Opportunity for Brands - Insider Intelligence
In 2022, US social commerce sales are expected to reach $45.74 billion, with more than a half of the country's adults making a purchase on social media. Those who hadn't made such a purchase cited a variety of reasons, including preferring to deal directly with a retailer (44%), distrusting platforms with payment information (43%), and being unsure if the products shown were legitimate (33%).
Still, signs of interest from consumers are there. Facebook was viewed as the most trustworthy platform for purchases, but only about 45% of buyers said they felt confident there. <<<READ MORE>>>
As seen in your feed: Shopping goes social, trending past US$1 trillion in annual sales - Deloitte
The social media feed is the new storefront—and users are doing more than just window shopping. Deloitte Global predicts that the market for social commerce will surpass US$1 trillion globally in 2023 (figure 1). That's assuming an approximate CAGR of 25%—not unreasonable considering past growth trends and the continued reliance on all things mobile and digital—driven by the purchases of the more than 2 billion people expected to shop on a social media platform in 2023. <<<READ MORE>>>
The Future of E-Commerce: Trends to Watch In 2023 - Forbes
The top two obstacles to growth are winning new customers and building people capacity who are doing well by doing good.
To help you with the first obstacle, I wanted to share how our Growth CFOs think about eCommerce. We learn a lot when working with CMOs and marketing experts.
As the world becomes more connected and digital, e-commerce continues to grow at an unprecedented rate. In 2020 alone, global e-commerce sales topped $4.2 trillion, with projections indicating that this number will only continue to rise. With the ever-changing landscape of e-commerce, it's vital to stay ahead of the curve and understand the latest trends shaping the industry. Here are some of the key trends to watch in 2023.<<<READ MORE>>>
Don't miss a single blog! Subscribe to the Bonneville Bay Area blog here, and get the latest updates from around the web sent straight to your inbox!
We cover the latest marketing tips, best practices, and insights that you can apply to your Bay Area business. Check out some of our recent posts: