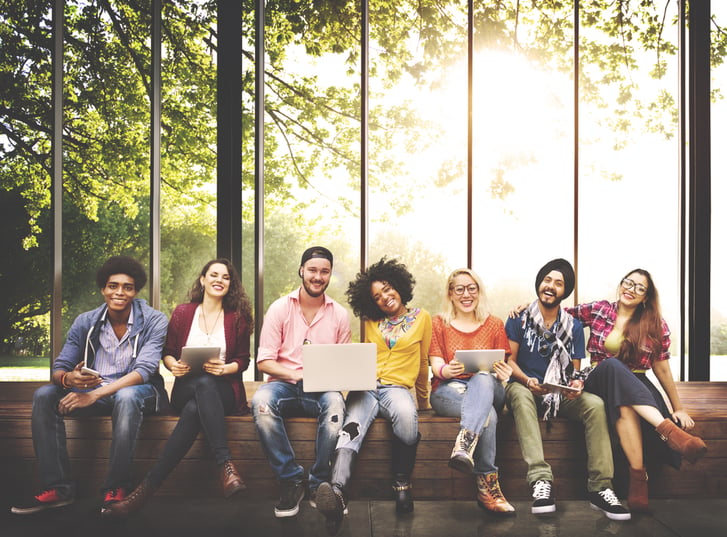 A college degree was once seen as the key to a comfortable, middle class life. Better jobs with more opportunities were linked to two, four, or more years of costly study.
Gen Z college-aged individuals think differently than earlier generations. No longer willing to take on the debt Millennials accrued for the purpose of a college education, most feel they don't even need a degree to be successful. The most diverse generation to date, they grew up entirely in the age of the internet. They recognize earning potential outside the walls of a college institution.
Let's discuss how higher education marketers can convince Gen Z and their parents that college is worth the investment.
Educational Opportunities Must Meet the Demands of the Gen Z Student
Gen Z is not accustomed to waiting for what they want. Smartphones and computer devices give them instant access to entertainment, food delivery, games, books, and more. If something comes to mind, it can be searched, learned about, and purchased in a matter of moments.
The values of this generation have also shifted. Family groups look different, and social woes like discrimination toward minorities and pollution of the planet are not tolerated. They are anti-establishment, anti-conformity, and willing to cancel any person or group who steps across the boundaries of their ideas about decent behavior.
To meet the demand of the Gen Z student, education providers must be immersed in technology while providing unique learning opportunities. Institutions must recognize that changes brought forth by this generation are here to stay, and be willing to offer support, flexibility, and community. Getting parents involved helps tremendously.
Build More Value into Degree Programs
Students are drawn to educational programs that can be completed as quickly as possible with guaranteed earning potential. Programs that involve on-the-job training simultaneously with classroom lectures tend to be quite appealing. Schools must be able to show that offered degree programs have a high return on investment.
Diversify the Learning Model with Flexible Options
Attending classes at a physical location Monday through Friday is not always an option for those wanting to advance their educations. Online classes and lectures that can be watched at the student's convenience offer flexibility for students who work, have childcare duties, or are involved in some activity that puts a limit on time.
Show Immersive Technology
Much like marketing, college needs to be able to meet students where they are. Courses offered virtually give students the freedom they need to be able to attend college while living their lives.
Offer Support Services
To even consider attending an institution of higher education, many students need various kinds of support. Financial assistance is one of the most important ones, pre-enrollment. Once a student is enrolled in classes, tutoring as well as educational and emotional counseling may be needed. A roster of support services will show potential students that the organization cares about their success.
Get Serious About Community and DEI
Today's students demand diversity, equity, and inclusion (DEI), and they expect the chance to have fulfilling relationships with their peers and mentors. They also only want to be involved with organizations that share their values and do good in the community.
Make sure your campus is one that celebrates differences, provides opportunities for everyone, and sponsors community efforts.
Give Parents More Opportunities to Get Involved
Parents haven't lost their influence in their children's decisions about how to proceed after high school. Even when financial assistance and scholarships factor in, families are still responsible for covering at least some portion of educational expenses.
Give parents the chance to learn what the school has to offer, and how they can help their children succeed.
Use Digital Marketing Tactics
Digital marketing is one of the best ways to engage with potential students and their parents.
Email - Still a powerful marketing tool, an email campaign has a wide reach and a high ROI.
Video/YouTube - Widely accessible and engaging, YouTube videos are an excellent way to bring awareness to a college.
Display Ads - Using a combination of audio, video, animation, and text, display ads offer superior targeting.
SEM - Search engine marketing helps to identify students interested in attending college.
Social Media - Social media provides the chance to educate potential students about programs while encouraging them to engage with other potential and current students.
Convincing Gen Z and their parents that college is worth it, takes more than it used to. Marketing to prospective students involves improving assets to meet their demands.
By exhibiting flexibility of programs, technological advancement, and community involvement, schools have a better chance of appealing to potential students. A digital marketing campaign can help spread the message and foster interest.