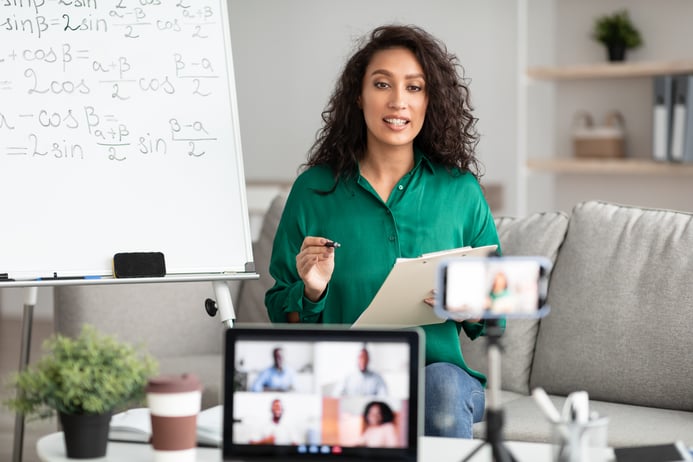 Online college is far from a new concept. In its genesis, online marketing for higher education targeted adults working full-time who wanted to continue their education at night and on weekends. Students just out of high school were more interested in the typical college experience. However, the pandemic changed that.
Today, more traditional college students are enrolling in online college programs. During quarantine, people got used to the convenience of studying from home and appreciated the availability of digital options for traditional coursework. Additionally, quarantine shows us that most forms of schooling can be done online. Because of this, marketing teams at universities should be developing digital marketing strategies to meet prospective students where they spend the most time: online.
A New Era of Learning
The time has come for higher education institutions to forego the outdated ideas of what college should be and embrace the emerging opportunities. Many college students are opting out of the traditional college experience, instead opting to take online classes to fast track their careers. In fact, 80% of students opting for online learning are undergraduates. They find that they have the freedom to work, study, and save money on housing and commuting while reaching their education goals at the touch of a laptop or mobile device.
Other factors contribute to the shift in focus to the digital learning experience. The cost of the traditional college experience can be prohibitive for many. Combining high tuition with sometimes rigorous or exclusionary entry requirements for in-person learning makes the online option more inclusive without sacrificing quality. 37% of students feel that the quality of online education exceeded that of in-person classes, while 48% believed them to be of equal effectiveness.
Lean Into the Paradigm Shift
While the pandemic highlighted many shortcomings in our education system, it also created opportunities. It shined a light on what could be, giving students and administrators an option that previously had not existed or not occurred to them to take advantage of. Academia has been historically slow to embrace change. Quarantine forced its hand, so to speak.
Since the college experience has changed, so should your marketing message. Remember, online, and for-profit higher ed institutions have been doing primarily online marketing for the past 15 years. Digital marketing channels help you reach prospective students with the right message at the right time. Digital channels are the answer:
OTT/CTV

- These streaming channels can be highly targeted, allowing you to reach your ideal audience among 84 million households. OTT and CTV not only provide precise targeting but enable you to measure viewer response and attribution. It is also more cost-effective than traditional television ads.
Display ads - Digital display ads are an attention-grabbing method of reaching your potential students using a combination of text, audio, video, and animation. They offer superior targeting and retargeting while making it easy to measure success. Display ads are attractive for flexible, cost-effective pricing, such as cost-per-click or cost-per-impression.

Email

- Email is still a powerful marketing method, made even more popular with the shift toward digital marketing and communication. It is a strategic channel and one of the most effective for higher education marketing. It can result in a significant ROI of $42 for every $1 spent.

YouTube

- Over 60% of colleges and universities are turning to video for their marketing campaigns. YouTube is widely accessible, engaging, and brings awareness to your offerings, giving potential students a view into what online learning can be like at your school.
SEM - Leveraging search engine marketing is particularly beneficial for identifying students interested in your college or online learning. It is highly effective in improving visibility, increasing web traffic, and boosting enrollment.
Social media - Social media is an ideal way to market to Gen Z. It allows you to engage your potential students by appealing to their strong desire for aligned values in their choices. It also encourages interaction between current and prospective students. You can also leverage your alumni base to reach their college-bound children.
Leverage Online Marketing for Higher Education
Digital marketing is the way to reach your prospective college students where they spend their time. It is also easy to market to their parents. Remember, many parents still foot the bill for their children's higher education.
If you are trying to attract students to the ease, affordability, and accessibility of your online courses, you have to start with your digital presence. It is your opportunity to show your aptitude and expertise in the digital realm. After all, if you can't attract their attention online, communicate with them on social media, or if they have issues trying to access your site, find information on your offerings, or view your content, that wouldn't bode well for the experience with your online courses. Show your potential students how easy online education can be through online marketing.