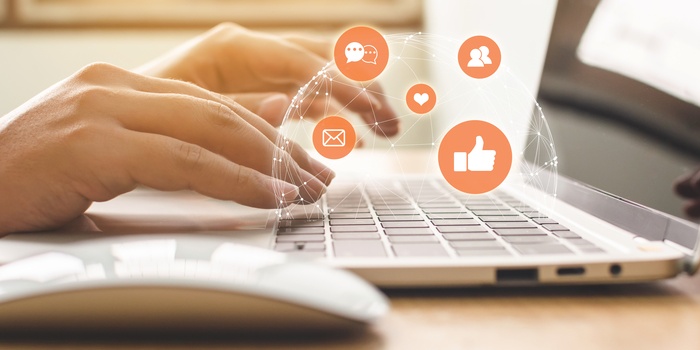 During the current COVID-19 crisis, businesses are looking to connect in meaningful ways with current and prospective consumers. You may need to alter your messaging, or the services you promote, in order to reach your goals and provide benefit to your customers during this unique time. We're seeing this across the country and across industries, including small and large businesses alike. A small, local pottery studio takes orders online and delivers its products directly to people's doors. A Bay Area real estate company now offers virtual house tours and online consulting in ways they never did before.
Many things have changed, including our day-to-day needs and pain points as consumers. This is a great opportunity to be creative with your messaging! Consider trying something new to spread positivity to your audience, while also addressing the new reality of what they need and how they need it. A fresh, timely message can not only make it easier for consumers to buy from you now while we're all sheltering in place, but will position you more positively as we re-open to "the new normal" in the months to come. In this article, we'll explore some ideas to help you effectively alter your messaging right now.
Show Empathy
At this time, it's critical to be empathetic to the situation and how everyone is being affected. Make sure your message is sensitive and takes into consideration all who are impacted; those who are ill; doctors and nurses on the front lines; people who are at home bored, stressed, or scared; and people who are fearful of job loss and economic uncertainty. Ideas to consider:
Show what you are doing to keep your employees and consumers safe. People are worried. They need to know you're taking adequate measures to protect them and their families--and to keep your employees as healthy as possible. For example, while Domino's is swamped with customers during this time of sheltering in place, they're also taking care of their employees. They're not only recruiting the unemployed to come work with them, but they're also promising to continue to pay their current employees - even those forced to quarantine.
Offer words of encouragement. In the midst of this crisis, people need reassurance. With social distancing in place, Zoom is letting us know through their marketing that they are here to make things easier for us to stay connected personally and professionally.
Share How You're Adjusting to the Times
Show that you're taking the needs of the community seriously. Let consumers know you recognize how this is impacting them and how you're changing your business as a result. Be clear and specific about how you plan to adapt or how you've already adapted.
How are you changing your business to accommodate your consumers' changing needs? Consider what your customers need most during this crisis and let them know how you're working to provide it. Discuss specifics like curbside services, delivery options, and online offerings. Another example from Domino's Pizza is how they have taken their delivery options a step further, allowing customized drop-off spots and prepaid and pre-tipping options to eliminate contact. Domino's adjusted their advertising to communicate this message across all channels.
How can you share the measures you're taking? Take a look at the ways you usually connect with your customers, as well as new channels to reach a wider base of potential customers. You may:
Send out a series of targeted emails
Include new messaging in your radio spot
Alter your digital marketing tactics
Craft new social media posts
Add messaging on your website
Your media partner should be able to help you decide how to get the right messages out about specific steps you're taking to protect consumers and employees --and to provide peace of mind.
Be transparent with your messaging. This is the time to be totally open with your buyers. Be clear, specific, and transparent in telling consumers exactly what they can expect from your business throughout this crisis. Hotels.com is known for its ads portraying Captain Obvious jet-setting to his latest exciting destination. But during stay-at-home orders, they changed their ad creative to show Captain Obvious eating popcorn alone (but not before using his hand sanitizer) encouraging us to just stay home. A travel company urging us to stay home - that's honest brand-building.
Repurpose Old Ad Creative
You may need a quicker turnaround on ad creative to remain timely and relevant as conditions change. Ford quickly pulled its existing ads to focus instead on a COVID-19 response campaign. They had planned a big campaign during March Madness, but turned on a dime, from promoting new models to offering financial relief to consumers financing through Ford Credit. Being able to repurpose or adapt your past ads can make it easier to quickly provide the exact message customers need to hear.
Work with your media partner to rework your creative. You can quickly add in updated messaging, voice-overs, and other content that will strengthen your existing creative by providing updated information specific to the moment. For example, Jeep has created new ads picturing their famous Jeep grille with items from around the house, to promote "exploring the great indoors."
Consider how your existing content applies to today. Review all of the marketing content your business has already created, with an eye toward updating it to reflect your consumers' needs today.
Right now, people are looking to trusted businesses and brands to offer a sense of normalcy, and supply what they need to make it through this crisis. Your business should respond by not only providing proven products and services, but also by communicating a marketing message that speaks directly to their needs at this moment. Your response at this time will not only benefit your buyers today; if done thoughtfully, it can earn new levels of trust and relevance that will keep consumers coming back long after the current health crisis fades into history.