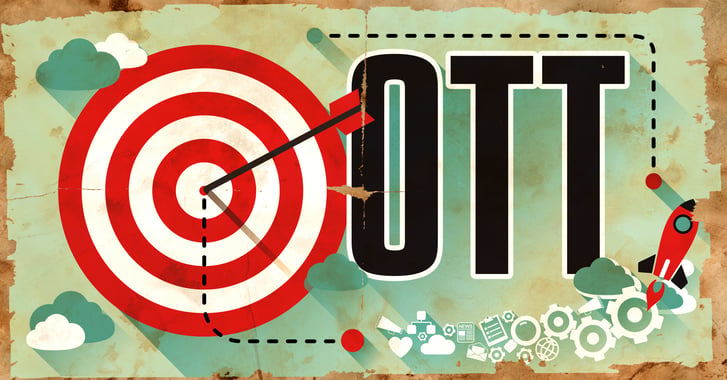 OTT advertising has been growing exponentially as more people turn to streaming platforms to consume content, replacing (or in addition to) traditional TV consumption. Due to this fact, there has also been a surge in OTT ad spend. According to research reported by Forbes, not only was OTT advertising strong in 2020, but it's gaining momentum. Ad spend hit $9 billion in the U.S. (up 28% YOY) and is expected to reach $14.6 billion by 2023.
This powerful marketing channel is just getting started and it's likely to reach new heights in the coming years. Here's what you need to know to get ahead of the trend.
What Is OTT?
Over-the-top (OTT) refers to delivering content directly to consumers via an internet connection and devices like mobile phones, laptops, and Smart TVs — meaning it goes over-the-top of traditional TV media like cable to reach consumers online. For example, any video streaming that is done through an app or website and bypasses traditional distributions.
What makes OTT so popular for consumers is its affordability, accessibility, and commercial options. As of June 2020, 69.8 million US homes use OTT services, and 80% of US homes have at least one internet-connected TV device.
Likewise, OTT is popular among marketers because it's a great branding tactic, has a significant reach among audiences, and it's much like digital advertising in that it makes it easy for advertisers to track metrics, retarget, and measure success.
It also offers flexibility in KPIs — OTT gives people the ability to click through, and CTV allows for higher video completions.
What Platforms Are OTT?
OTT platforms refer to the streaming services that supply the content customers consume via an internet connection. This can include subscription video-on-demand (SVOD) services like Netflix, Hulu (and Hulu Live), Amazon Prime Video, YouTube (and YouTube Live), SlingTV, HBO Now, Disney Plus, and many more.
Several major TV networks have also moved over to streaming since its growth in popularity, with the most obvious and successful being Disney and HBO (SVOD), followed by free AVOD (advertising-based VOD) networks like NBCUniversal's Peacock, Nickelodeon, The CW, ABC, Cartoon Network, and more.
Another form of VOD is Transactional video-on-demand (TVOD), which allows users to purchase per piece of content — unlike SVOD, where consumers pay to access a library of content. Example: Google Play.
These streaming platforms are delivered through connected TV (CTV) devices that are either plugged into your TV (TVs that aren't Smart) or connected to your internet (Smart TVs). CTVs can include Roku, Amazon Fire Stick, Chromecast, and Apple TV.
Are OTT Ads Worth It?
Short answer — yes. OTT ads let you reach demographics that aren't easily accessible for advertisers, as well as those who watch traditional TV. While cable was limited to TVs and consumers being home, OTT broadens advertising opportunities to the many users on the go via their mobile devices.
This is significant in the sense that nearly half (48%) of adults have admitted that they'd be unable to give up their smartphone even for a single day. The average US adult now spends 34 minutes a day using mobile video apps alone. This number is also expected to continue growing rapidly, expanding access with digital ads and opportunities for advertisers to reach their target audience.
It's also true that OTT is more efficient in terms of cost in comparison to traditional TV. While OTT advertising costs $25 – $40 CPMs (cost per 1,000 impressions/tv spots), traditional TV advertising rates can range from $40 to $200 CPMs or more depending on the demand.
OTT Trends
OTT is a growing platform, and many changes are occurring since it's a fairly new concept that evolves in potential and opportunity by the day. As more consumers steadily cut the cord, OTT trends have only been steadily increasing in the right direction, with experts predicting nothing but good things for its future.
According to eMarketer predictions, US adults will watch an average of 140 minutes of digital video per day this year, up from 133 minutes in 2020. By the end of 2022, adults will watch digital video for an average of 145 minutes per day.
Another eMarketer study showed advertising success for many businesses, reporting that 60% of those that are spending plan on increasing their investments. This suggests CTV/OTT is proving to be an effective part of their marketing plan.
These studies are also showing a link between CTV advertisers and spend on digital-out-of-home (DOOH) suggesting that advertisers that are already seeing the benefits of CTV are more willing to take risks on another emerging format.
The Bottom Line in OTT
OTT is a wonderful opportunity for digital advertising to consumers who otherwise might not be reached, and most advertisers are already dipping their toes in the market. This is cause for more marketers to jump in on the opportunity, given they risk falling behind otherwise. To learn more about OTT/CTV advertising and how to leverage it in your marketing strategy, follow our Bay Area Marketing and Advertising Blog for more insights and tips.