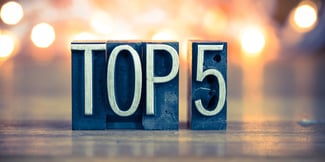 Over the past year, we've shared lots of ways you can tune in to radio advertising success. Since we were still in the midst of a pandemic, it was important to help you better understand marketing and advertising. From integrated digital marketing tactics to working with radio influencers, we aimed to help you move customers down the path towards a purchase – and directly to your brand!
Here is a list of the top 5 things YOU can do in 2022 to help your business succeed. If you want to measure the ROI of your campaigns quickly and effectively, find ways to stay relevant in the radio space, or learn how to reach the right customers; you have come to the right place!
Here's a snapshot of our top-viewed blog posts of 2021 to help guide your marketing strategy in the year ahead. Enjoy!
Bonneville Bay Area's Top 5 Blog Posts of 2021:
These blogs may be the top 5 of 2021, but we have lots more content to explore on our website! Our resource center is full of valuable information to help you reach your marketing goals. As we look ahead to 2022, don't forget to subscribe to our blog to be the first to receive new articles.