Collaborating with a radio influencer can help you achieve your desired marketing objectives. Audiences have a personal connection to their local radio personalities. Eighty-three percent of radio listeners value and trust their favorite personality's opinions, and 49% of customers rely on influencers' recommendations to make a purchase decision. Influencers present a huge opportunity for your brand to increase awareness and sales.
To give you a real-world example of the power of influencer marketing, we'd like to present a snapshot of a prominent on-air influencer in the Bay Area. It illustrates how this radio influencer appealed to their vast and loyal following to drive results that the marketers would not have attained independently. Let's look at the impressive record of one KBLX radio influencer.
Introducing On-Air Influencer Nikki Thomas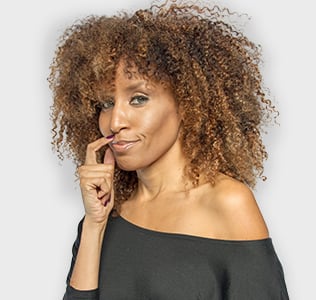 Nikki Thomas has been on KBLX for over 15 years, working with a wide variety of clients. A dynamic motivational speaker, Nikki is a host/emcee and certified yoga instructor. This unique blend of skills has allowed her to heal, motivate, and empower her audience through difficult times. Her loyal listeners have come to know and value her opinion through her community activities, classes, and speaking engagements.
Because of her extensive reach and impressive ability to influence diverse demographic segments, she is in constant demand for various marketing efforts. Let's take a look at how she influenced the outcome of some of her many campaigns.
AARP
Marketing Objective: AARP sought to improve awareness of the AARP brand and its benefits within the African American community. At the same time, they endeavored to provide support and guidance to all ages to live a healthy lifestyle.
Solution: A customized interactive health series, "Get Moving with Nikki's Summer Soul Sessions." These sessions encouraged the KBLX audience to work out and engage live with Nikki on Facebook weekly. It represented an integrated approach to wellness across various digital elements, including social media, blogs, emails, and newsletters. Listeners and followers were encouraged to engage live with Nikki on Facebook and revisit exercises on Nikki's Summer Soul Sessions Blog page.
Results:
Nikki's social media videos reached up to 48,000 people.
The social videos had over 109,000 total plays during the campaign.
Total campaign impressions reached 917,113. For reference, it would take filling Levi Stadium over 13 times to accommodate that many people!
San Francisco Department of Emergency Management
Marketing Objective: After months of isolation and closures, the SFDEM wanted to motivate the Bay Area and remind them that we are in this fight together by extending their "Wear a Mask" campaign into September. To promote engagement, they chose on-air influencer Nikki Thomas as the official brand ambassador.
Solution: The "Reopen SF Campaign." As a brand ambassador, Nikki reached out in a mix of organic 15 and 30-second commercials aired over four weeks to her audience, including blue-collar workers and Hispanic listeners. She appealed to listeners to abide by the recommendations of the SFDEM so that San Francisco could safely reopen. The SFDEM reiterated her message via KBLX's core digital channels.
Results:
Nikki's top post reached over 43,000 people.
The average reach per post was 25,000 people.
The engagement was over 1,000 on Facebook and the click-through rates were over 750.
Total campaign impressions were 1,432,990. That number is equivalent to filling Levi Stadium over 20 times!
These are only two of the many campaigns that Nikki has successfully executed. Marketers should never underestimate the power of a radio audience to support products, services, businesses, or causes that their favorite radio personality endorses. Because listeners feel like their favorite host is a friend or family member, host recommendations carry far more weight than those of a stranger.
Revolutionize Your Results Using Influencer Marketing
The influencer marketing industry is set to grow to approximately $9.7B in 2020. Radio is an ideal way to leverage influencer reach. Radio endorsements can be your secret weapon to boost sales and reach an engaged local audience. With influencer marketing, you gain access to potential prospects that you may not gain as quickly through other efforts.
Integrating radio and digital tactics to drive results is a recipe for success for Bay Area marketers. When used in conjunction, particularly with a radio personality with a vast social media following, they have proven to drive higher ROI and better engagement. Work with a media partner to get matched to the right influencer for your target audience.